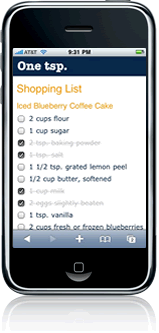 Last week, One tsp. marked its one year anniversary. I've been working hard to add new features over the last few months, and for the first anniversary I'm happy to announce that you can now turn your online recipes into shopping lists!
This is the coolest feature yet. I used to think that being able to pull up recipes on my iPhone while in the grocery store was handy. But now, you can add as many recipes as you want to your shopping list and then check off each item on your phone as you find it in the store.
You can also add any other items to your shopping list, even if they have nothing to do with cooking at all.
What I'm trying to say is shopping lists totally rock! Sign up today and try them out.
One tsp.'s mobile interface works on just about any smartphone, but is super handy on iPhone's and the Palm Pre. If you're using One tsp. on another mobile phone, tell me about it.